Violent Video Games Made Me Do It..
Updated: January 16, 2013
As I was leaving work today, I came across a link that was posted on my twitter feed about "Obama's call for game violence research".
The first thing that popped in my mind was "What a crock of sh*t!"
Unless you've been under a rock here lately,  the NRA has been pointing its nasty little finger at video games as the reason behind all of the violent acts by kids today. That video games are the cause of children shooting up schools. Referencing the Sandy Hook school shooting in general.
My take on all of this?
I say "bullsh*t!"
I've been gaming since the early 80′s and have played all kinds of violent video games.
Such games as:
CONTRA
MORTAL KOMBAT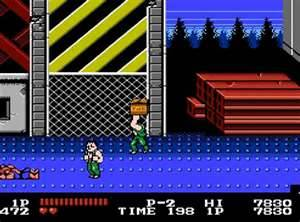 DOUBLE DRAGON
and let's not forget some of the classic games. You know, the most well know games out there. Im sure almost all of us have played these:
DUCK HUNT
SUPER MARIO BROS.
These all are games that I played as a child. And of course these are not the only games that I played. But here we are back to the main question. Did violent video games make me do it? Everyone of these games shows violence in some way, some how. Yes, even our princess saving super hero Mario himself.
So If you want to point the finger at somebody and you really want to reference violent video games, then you have to start with bad parenting. How do you think the child gets the game to begin with? And please don't say, "my child borrowed the game from a friend."
Sorry but that isn't going to cut it either. Because you should have been "monitoring your childs gameplay".
Don't use video games as a baby sitter. Use them as an educational reward. My 7 year old son loves to play video games. One of his favorite games is "Skylanders." Here, check out the trailer for the game:
Now, would you think this game would be too violent for your child?
NO!
Why not?
I mean look at the violence. Your a monster whose killing other monsters and you have guns, bombs and other weapons. Its so horrific!
But I guess you would think it wouldn't be violent because its monsters. Because they are make believe characters. Created for entertainment.
But what if I was to ask you about this game:
OH HELL NO!
Right?
WRONG!
Call of Duty is no different. First of all you have to be old enough to purchase the game. Thats right it clearly says "Mature 17+". Meaning you have to be 17 years of age or older to "BUY" this game. Now that's a different argument for a different day.
But as far as letting your children play this game, why not?
Do I allow my 7 year old son play this game?
Of course I do.
Why?
Because he understands that it is simply just a video game. That its only meant to entertain him.
How do I know this?
Because I was a "parent" and made sure he understood that it was just a game. I made sure he understood that it was only for his entertainment. Not to be mimicked or repeated outside of "home." That's why I don't mind my son playing Call Of Duty.
Now a lot of people are gonna argue this with me and you will never change my decision about it.
So does "entertainment" really make us do it?
Does video games really make us do it?
Answer is:
NO.
Or otherwise we all would be natural born killers. Isnt' that right fellas?